Now that lazy days are in full swing, we thought this would be a perfect time to give you a list of the best things to watch...

Whether you prefer to watch something on the box or love a night at the cinema, we have something right up your street!
A few of these have either already begun or are already release but this is even better because you can binge without having to wait a week for the next episode.
1. Making a Murder
If you didn't hear about the craze over the first series, then quite frankly, where were you? If you haven't watched it, rewatch it on Netflix and then get onto the second series! What better way to spend your winter evenings than keeping up with Steven Avery and his latest shenanigans?
2. The Apprentice
This comical (tough business) process of elimination is one of BBC's best. We love to watch bright young business people be pushed to their limits to make hilarious mistakes. If like us, you love seeing every candidate squirm in front of Lord Sugar, Karren and Claude in the boardroom then catch up on any missed some episodes on BBC iPlayer.
3. Louis Theroux
Who doesn't love a Louis Theroux documentary? This time it's 3 part series called Altered States. Louis explores the ways modern America deals with birth, love and death. Sounds simple but recent changes in American have, let's say, transformed their experiences. The first episode was on a couple of weeks ago but get yourself caught up!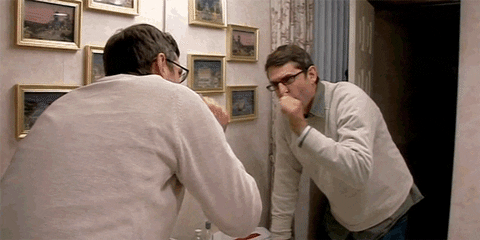 4. The Sinner
In the last series of The Sinner, a young mother (Jessica Biel) stabs a random man to death in broad daylight in front of her husband and child but she has no idea why did it, apparently. In this series, something equally as weird happens - an 11-year-old boy murders his parents with 'no motive' - it's all amazingly odd! It's only been out since the 9th November, have you managed to watch it yet?
5. Wreck-it Ralph 2: Ralph Breaks the Internet
For those of you who enjoy a night at the cinema, Walt Disney are releasing a new film, Ralph Breaks the Internet. Six years after the events of "Wreck-It Ralph", Ralph and Vanellope discover a wi-fi router in their arcade, leading them into a new adventure where we can guess Ralph breaks the internet. We can't wait for this film to be released in cinemas on 21st November!
6. The Grinch
Christmas will be here before you know it so it's time to get yourself in the mood! The 1966 original is being remade this year by the creators of Despicable Me. Without spoiling it, the story is just like the original but with a few interesting changes. With Benedict Cumberbatch as The Grinch and Pharrell Williams as the narrator, it's hilarious. Catch this in cinemas before someone spoils it for you!
So get ready for a month of great TV and films because it really is jam-packed!